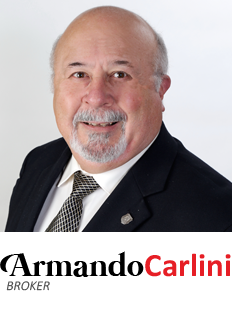 Address
2985 DOUGALL AVENUE
WINDSOR, Ontario   N9E1S1
Phone number
Office: 519-966-7777
Fax: 519-966-6702
E-mail
Armando Carlini, Broker, has been licensed in Real Estate since 1972. Recently retired from General Motors he now dedicates his time as a Real Estate Professional. Armando is also fluent in the Italian language and active in the community. He is familiar with all aspects of real estate market in the Windsor Essex County region and is very comfortable talking to people and meeting new people on the daily basis.
Armando invites everyone, including friends and past co-workers who are thinking of buying or selling to contact Armando in regards to their real estate needs. E-mail sellbyarmando@gmail.com or call him on his Cell, 519-816-4874
About Valente Real Estate
Remo was the youngest child born to Pietro and Emilia Valente.  Remo was born in a bomb shelter in Sora, Frosinone Italy during World War II on March 28th, 1944.  Times were tough for the Valente family since 3 months after Remo was born his father passed away suddenly and the family had to pull together to make ends meet
1955 Remo departed from Naples aboard the Saturnia Ocean-liner.  He left with his Mother Emilia and his sister Lina and had to leave his older brother Mario behind as they did not have enough money for him to come at that time.  They arrived in Halifax, Nova Scotia where they boarded a train to Toronto.  When they arrived in Toronto they were greeted by Remo's Uncle and he then drove them all to Windsor- their final destination  
His first job as an adult was a Tool Maker for International Tools and Binder Tools but then decided this wasn't the career for him and in 1970 Remo got his real Estate Licence and put his whole heart into the job that he was born to do.  He first worked for Mann and Martell (United Trust) and then became one of the "Pedler People" at Bob Pedler Real Estate and was an instant success becoming Lion of the Month (Top Producer) month after month and always yearning for more.  By 1972 Remo was the ultimate Top Producer for Pedler selling an astonishing $1,139,693 which was far above any other sales person in the company.  
In 1973 Remo decided to take the ultimate chance and open up his own company Remo Valente Real Estate.  He rented an office at the corner of Howard and Tecumseh and his rent was $235/month at the time.  Eventually he recruited 6 people to join his new office and soon after they grew out of the building when approximately 20 people in total had joined the Valente Team.  They then moved their offices to the Angileri Brothers building.  
In 1979 Remo purchased a donut shop at the corner of Dougall and West Grand and that became Valente Real Estate's new home.  The company eventually grew so large in size that they had to place 2 additions on the existing building and this is where Valente still resides today.  In 1990 the company was so successful it became a corporation:  hence the name today Remo Valente Real Estate (1990) Limited. 
In 2001 Remo decided to let the second generation take over the company handing the reigns over to Pietro, Gabriel and Amy-Lynn.  Pietro became the Broker/Presdient of the company and has continued to grow the success of Valente Real Estate.  Under his direction the company grew by 33% in size and has moved into becoming Windsor's first One Stop Real Estate Source with addition of the company owned Mortgage Centre Franchise. 
Amy-Lynn and Gabriel are now Real Estate Agents with hopes of becoming even a fraction of the success that their father became.
Valente Real Estate is also one of Windsor and Essex Counties largest residential developers.  Remo Valente and his associates have been responsible for the development of over 200 Condominium Units, and over 1500 Building Lots throughout the Windsor and Essex County Area.   Below is a small list of Remo's and Valente Real Estate's Projects. 
South Place Condominiums

Navy Yard Condominiums ,

Wildwood Park Condominiums

St. Genevieve Place Lofts

Huron Estates Subdivision

Spring Garden Townhomes

Kenilworth Gardens

Southwood Trails

Victorian Crossing and Hillside Town homes

Pierella Park Estates

Treeline Court of Forest Glade.

The Enclave of Tuscany Oaks.

Banwell Shores

Townsview Estates.

The Preserve of LaSalle (future)

Hunt Club Creek of Amherstburg (future)

Big Creek of Amherstburg

Greycliff Manor Subdivison Sarnia

Victorian Gardens of LaSalle, and many more!
---
Awards Won By VALENTE REAL ESTATE
Windsor 2000 SAM (sales and marketing) Awards
Most Outstanding Renovation Project over $50,000 – St. Genevieve Place Lofts

Most Oustanding New Multi-family home under $150,000 – St. Genevieve Place Lofts
Windsor 1998 SAM (sales and marketing) Awards
Best newspaper ad ½ page and greater

Best magazine ad ½ page colour

Best sales brochure.
Windsor 1999 SAM (sales and marketing) Awards
2001 Built Heritage Award
Valente Real Estate was provided with a Built Heritage Award for St. Genevieve Place Lofts on February 19, 2001. This award confirms Valente's dedication to re-use and preservation of Windsor's architectural treasures.
2006 C.I.B.A – Canadian Italian Businessmans Association
" FAMILY COMPANY OF THE YEAR"
2008 GREATER HOME BUILDERS ASSOCIATION
"Golden Hammer Award " – Best New Home Over 3000 Square Foot. for 6560 Tuscany Oaks Drive, LaSalle Ontario.